Is it fair to say that Ingmar Bergman was his own greatest rival? There are a number of films in his filmography that are good, interesting films featuring strong performances – but when you watch them, you think of other, better films that Bergman made. Autumn Sonata may be one of those films; it is certainly not his strongest psychodrama centred on a conflict between women too close for their own good. But it has something that none of the other films have: that other iconic Bergman in 20th century cinema.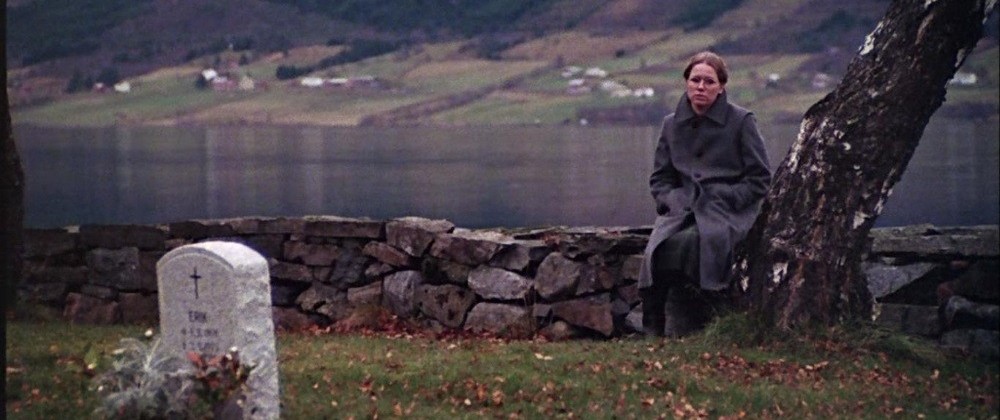 Perhaps it helps that while I am obviously aware of Ingrid Bergman, having seen her in Casablanca and in Hitchcock's Spellbound and Notorious , these are only a small number of her films, however iconic they are. I don't think I've seen any of her films made when she was already middle-aged or older. And as a result, my awareness of this meeting of two giants of cinema was rather abstract and definitely not acute enough to be distracting. As it is, Ingrid Bergman fits into Autumn Sonata as if she's been a member of Bergman's troupe for decades – which, apparently, is no small feat, because while the director wanted to work with the Hollywood star and considered her perfect for his story, he hated the performance she'd initially prepared for the part. It took hard work on both their parts to find a way to approach the material and bring it to life that worked for both the actress and the director.
The end result doesn't even hint at this conflict. Ingrid Bergman comes across as much a part of Bergman's world as Liv Ullmann (Autumn Sonata was her ninth film collaboration with the director) does. (Or Gunnar Björnstrand and Erland Josephson, both of which have tiny parts in the film that feel somewhat as if Bergman just had them tucked away in a cupboard and got them out when he needed them.) Thematically, too, the film is very much recognisable as a Bergman joint. We don't know these exact characters – a daughter who resents her mother, a mother who fears her daughter's resentment – but we know similar types and concerns and neuroses: parents, offspring, artists, failures in one sense or another. As in so many Bergman films, especially the later ones, we are introduced to a relationship that seems okay if somewhat fraught at first but that turns out to be acrimonious to a point where some of the exchanges are sharp enough almost to draw blood. Mixed in with this dynamic are themes familiar from other Bergman films: distant and/or judging parents, families whose members struggle with feelings of inadequacy, disappointed marriages, the silence that God leaves behind (whether he exists or not).
Accordingly, the conversations between the mother Charlotte (Ingrid Bergman) and the daughter Eva (Liv Ullmann) feel very familiarly Bergmanesque – but to some extent it felt to me, and I wonder if it also felt like this to audiences in the late '80s, that Bergman's style had become overly familiar, even a bit stale. Obviously the two leads make the most of their vicious exchanges, but there is a stagey quality to late-stage Bergman that at its best can still add an intriguing strangeness to his stories yet it can also fall flat. The dialogues never quite fail to work in Autumn Sonata, but the film can feel somewhat like a Bergman revival: a touch of Cries and Whispers, a smidgen of Persona, hints of Scenes from a Marriage.
Then there is the somewhat rote breaking of the fourth wall that Bergman also uses later, in Saraband, where it also feels oddly like Bergman would have preferred to take these stories to the stage. (It is no surprise that Autumn Sonata is one of the Bergman films that is often adapted to the stage, even as an opera.) The director has made good use of theatricality in several of his films, but at his best his films still use such techniques in concert with clearly cinematic techniques and to essentially cinematic ends
I suspect that this is a film that works better for viewers who know some of Bergman's films, especially the older ones, but who haven't seen practically all of his oeuvre; Autumn Sonata is good, it is well acted and directed, but in spite of bringing together two iconic Bergmans, it isn't fresh. It is more accomplished than most of the director's lesser films, but it is less surprising. As such, its appeal mainly lies in watching these two formidable leads tear into one another during a long, dark night – but this they do magnificently.
Which leaves us with two more entries in the Bergman canon – both of which form the "Closing Night" of Criterion's collection: the TV and theatrical versions of Fanny and Alexander. It has been a long journey, but I am looking forward to ending it on that particular story.